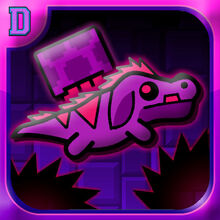 Darkwrath32 is an average Geometry Dash player and an original member of Team OneNation.
Darkwrath32 currently has over 1700 stars and 12 demons. The easiest demon he has beaten is "The Lightning Road", and the hardest demon he has beaten is "Deadlocked". His favorite demon he beat is "Flora".
Darkwrath32 is somewhat experienced at level creating, but barely ever finishes building his levels. He enjoys making small gameplay segments, which is why he loves OneNation megacollabs.
He does not have a part in uNation, but he is working on verifying his remake, "uNiversal". He also tried buffing parts of uNation.
He is currently building three demon levels: Conquest, Sing me to Sleep, and Round. Conquest will be a hard demon, Sing me to Sleep will be an easy/medium demon, and Round will be a very hard/insane demon. You can find a preview of Conquest here: https://everyplay.com/videos/31587758
He has an Everyplay account and a Youtube account, but he barely posts videos on his Youtube account.
He is 14 and owns a cat.
He has parts in the upcoming OneNation megacollabs White Hot and Clubstep v3.
He is also known as Rockminer72 and Thepinator.
He was going to work on an entry for Terrashock's Creator Contest, but he decided to discontinue it after hearing about the awful things he did to KingDavid, Sary, and others.
Ad blocker interference detected!
Wikia is a free-to-use site that makes money from advertising. We have a modified experience for viewers using ad blockers

Wikia is not accessible if you've made further modifications. Remove the custom ad blocker rule(s) and the page will load as expected.