This is a quality article!
You are looking at one detailed and comprehensive article. Only edit it if new information emerges or if something really needs to be changed.
The
OneNation Discord
is the main method of communication between more active OneNation members.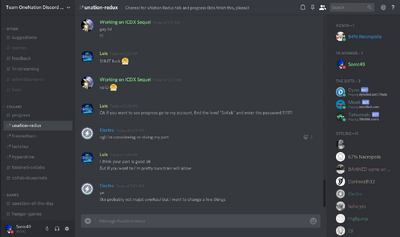 Who uses it?
Almost everyone on the team. It is recommended to join the server if you are part of the team. To see if you are a part of the team, read here.
However, you do NOT have to be on the team to join the server. Though, it is recommended that you join only if you have an interest about the team, or if you are on the team.
Who owns it?
The Discord was created by Trainiac and is therefore owned by him. ElectroBlaze, Korr, and Jafi are admins there, and also help to moderate. As long as you follow the rules that are seen in the #rules channel, you will be good to go.
How can I join the Discord?
There are several steps you must take to enter the new server.
Make a Discord account, it requires an email and a password. MAKE SURE YOUR PASSWORD IS STRONG AND YOUR EMAIL HAS BEEN VERIFIED.
(Optional, but recommended) Enable Two-Factor Authentication. This requires both a phone and a computer. You use your phone to scan a QR code, and then you must download Google Authenticator. With this enabled, you must use a 6-digit code as well as your password to login to your account at new places.
Send a friend request to any of the people below. Then, once they accept your friend request, send them a messege telling who you are (wikia name, GD IGN, etc.), and if you aren't an OneNation member, why you want to be on the discord.

Trainiac#6261 (Trainiac, or 3litecandycrusher)
ElectroBlaze#2416
jafi#1532
Niko#0750

Upon verifying your identity, you will be presented with a server invite link. Once in the server, you should read the rules before posting.
Ad blocker interference detected!
Wikia is a free-to-use site that makes money from advertising. We have a modified experience for viewers using ad blockers

Wikia is not accessible if you've made further modifications. Remove the custom ad blocker rule(s) and the page will load as expected.